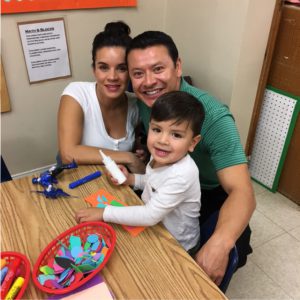 "My daughter Sophie just start going to Buonora she love it and I do too, I really see the different before and after … She is more happy more social and she is learning a lot.If I have any questions and believe me I do Candice the Program Coordinator always is there to answer me and send the most recent information by email .Thanks Buonora for be part of our family now ????"
"I have only wonderful things to say about this place! My daughter started attending the toddler program a few months ago and she is SO happy! She looks forward to going to her class every day! Her social and developmental skills have improved greatly and her teachers take the time to discuss her progress with me on a daily basis. Her teachers are sweet, caring, loving and kind. All of the staff is truly amazing. My experiences here, since day one have been great. They have respected the fact that my daughter is a vegetarian and have made us feel so welcome! I can text Candice on a daily basis , even on weekends with any questions  that I may have about lunch menus, school programs or financial matters. Needless to say, I couldn't have made a better choice for my sweet girl! I have very high standards and I am truly a very happy Mommy! We are looking forward to summer and spending lots of time in the pool there! Thanks to all of the Buonora staff! We are so grateful :)"
More Testimonials
SHIVALI S.
Los Angeles, CA
The staff is super nice and flexible. My kid LOVES her teachers and they are super respectful. She loves going to school!
My son has been at Buonora for the past 2 years and he loves it! Summer is so much fun for the kids, they learn really good manners, social skills, expressing themselves, etc. We are really happy we found this school.
There are only great things to say about Buonora. I myself went here when I was a child and have tons of fond memories. I am proud to say that I now bring my daughter to Buonora. She loves it here. The teachers are great and help make my daughter's experience rewarding.  If you need a safe environment where your child can learn, have fun and explore their cognitives skills Buonora Child Development Center is the place to enroll them.
My daughter just started going to Buonora Child Development Center and she LUVS it! I am so relieved because I was nervous to take my baby to ANY preschool at first, and the teachers at Buonora have been so supportive and great. I feel totally comfortable and confident with them. I would recommend this preschool to any mommies out there 🙂
Have a Story To Tell About Your Buonora Experience? We'd Love to Hear It!