Learning centers are a great opportunity for children to make discoveries and explore based on their individual needs. By providing a wide variety of activities, we ensure that all developmental areas will be stimulated and thereby facilitating the development of cognitive thinking skills, language arts skills, gross-motor and fine-motor skills, social-emotional skills and more. A descriptive lesson plan is posted every week in each classroom.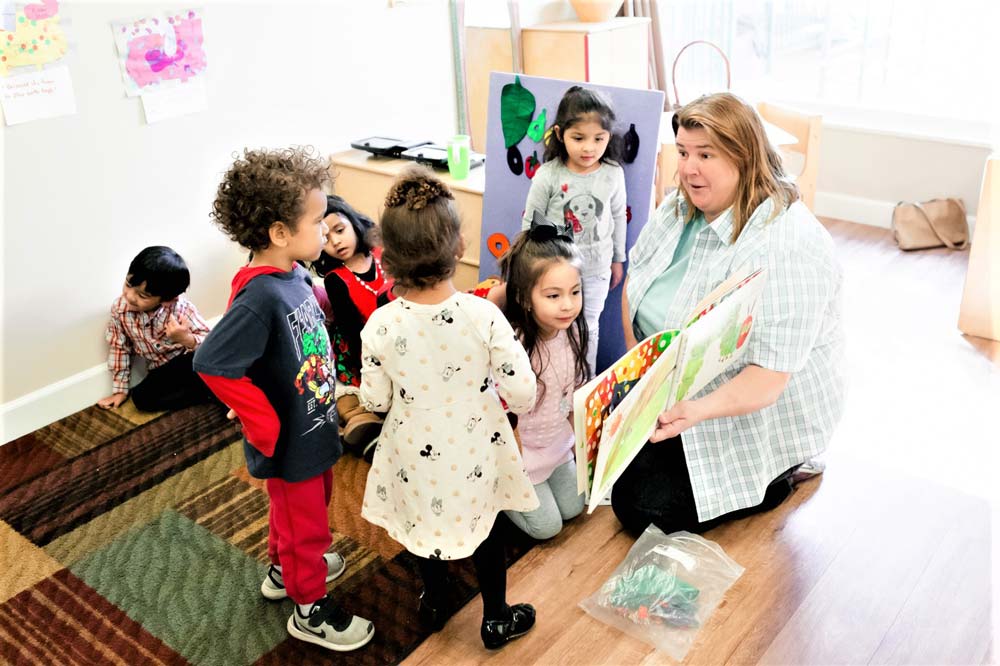 During circle time, children strengthen all areas of development in a group setting.  Circle time focuses on encouraging receptive and expressive language development through music, literature and individual sharing.  This helps children expand their vocabulary and gain confidence in expressing themselves.  In addition, children learn to exercise their attention skills.  We incorporate good morning songs, discuss the weather, feelings, math/language, and take time for reflection. Through participation in circle time, each child comes to learn that they have a voice and that they are valued as people.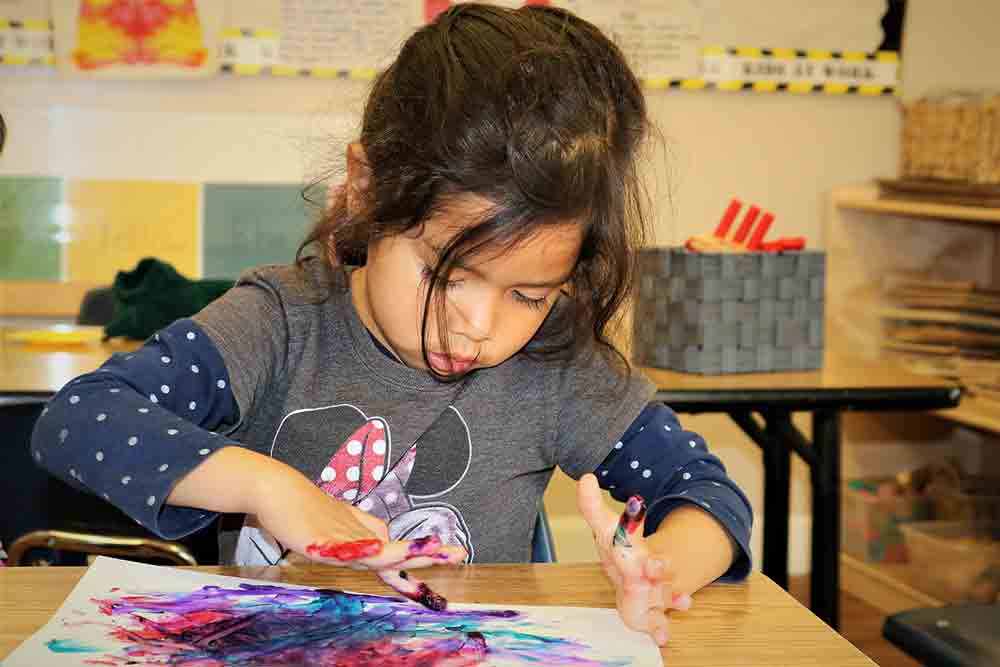 Every classroom has an art shelf set up with basic art supplies to be readily accessible to the children.  This includes paper, crayons, markers, paper scraps of different kinds and shapes, glue, scissors, yarn, material scraps, and water colors.  Other supplies are rotated onto the art shelf, such as egg cartons, tape, hole punches, coffee stirrers, pom poms, crafts sticks, felt pieces, chalk, etc.  In this center children enhance skills in fine motor development, mathematics and science.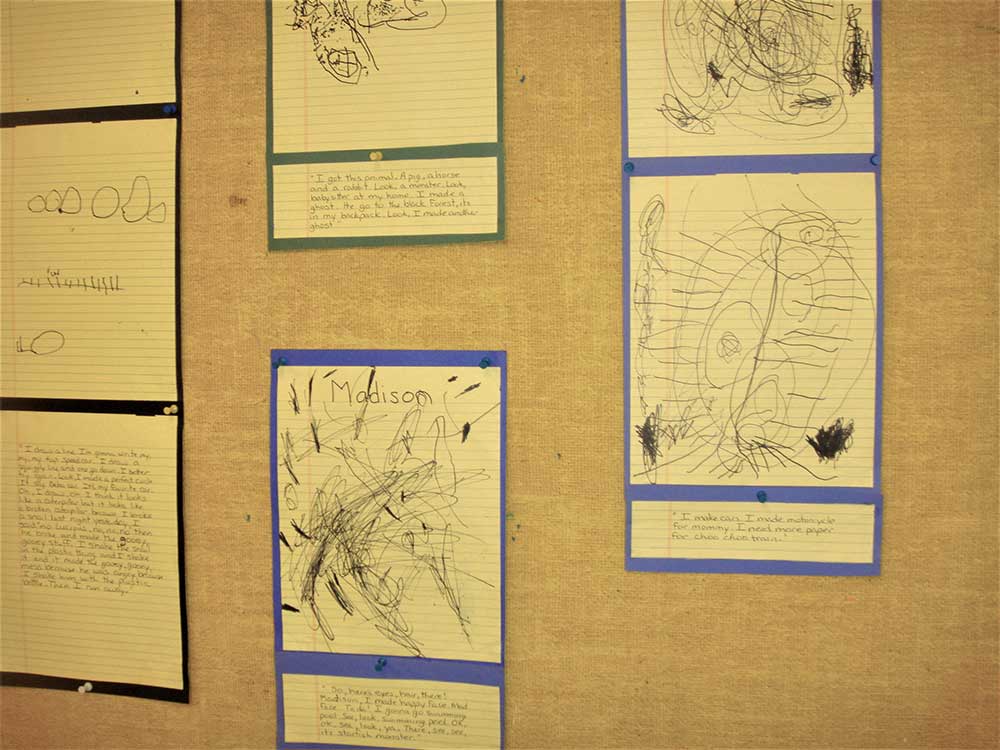 Emergent literacy is a major part of our curriculum. Children sort, label and classify objects by shape, color, size and more. Teachers ask open ended questions to encourage making connections between thoughts and the spoken word.  We read to the children daily and use flannel board stories, puppets and finger plays.  Language skills is interwoven through all learning experiences including dramatic play, music and movement, science and math. There are ample opportunities for individual and group story writing, journaling and taking daily dictation.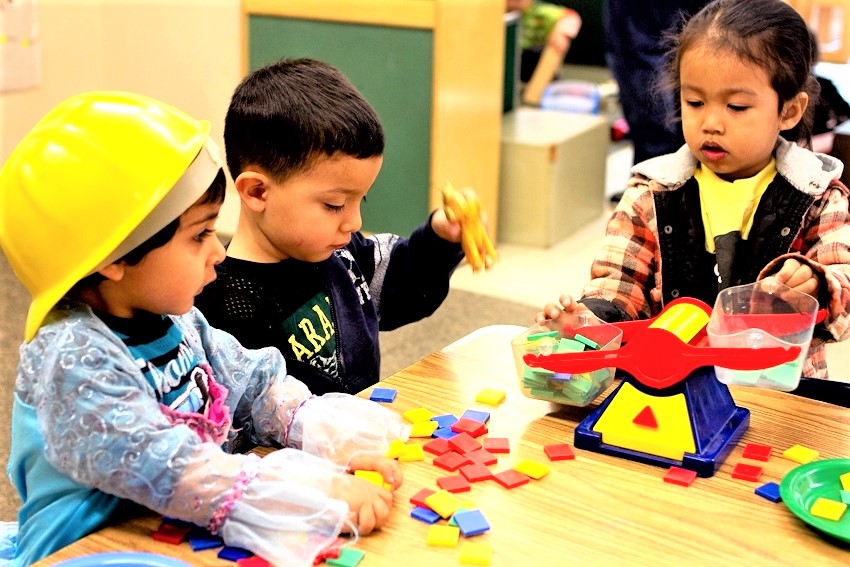 Children are provided opportunities to explore math properties in their environment every day.  Each classroom is equipped with blocks which are a child's first and most important math tool.  We have sorting trays and sorting objects, different size containers, measuring bins, matching items, tiles and other counting items, counting trays, fraction puzzles, play money, etc.  We ask questions regularly: How many do you have? How many are in that container? How many hours did you sleep last night? Was it more than yesterday? Are all these the same size? Which one is the largest, and which one is the smallest?  We get the children accustomed to questions and encourage them to find the answers, if they do not know.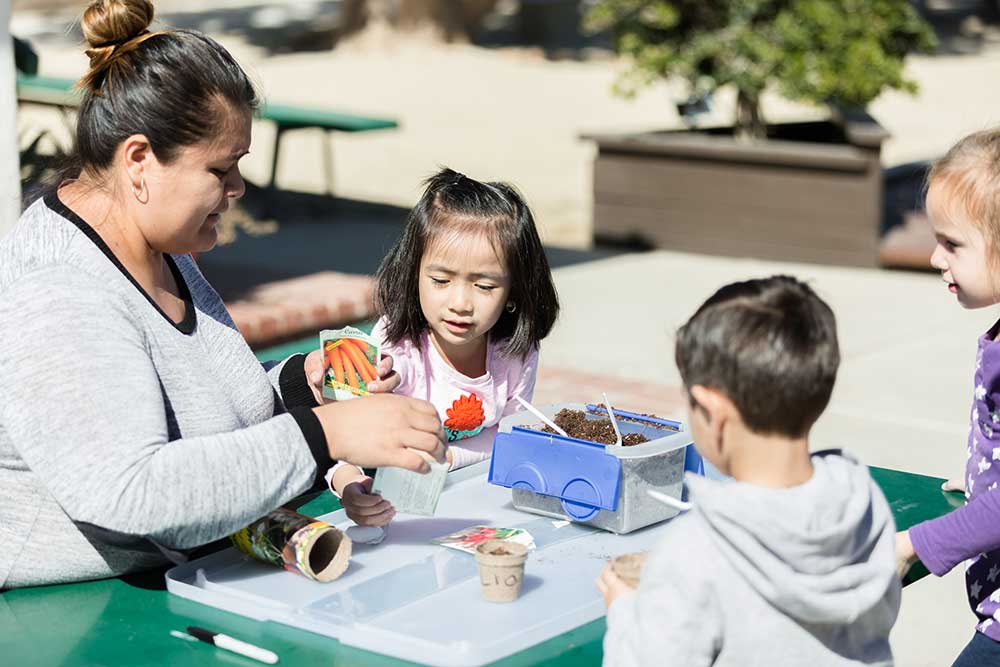 With all the concrete, brick and plastic we have all around us, it is important to have some nature made available to the children.  Therefore, in our classrooms we have sea shells, sea biscuits, coral, bark, rock collection, pine cones, twigs, plants and more.  The children are able to touch, feel, smell, hold, or draw these objects.  Magnets, magnifying glasses, measuring bins are also available to children.  Each class plants in our outdoor planters, as well as participate in small planting projects indoors throughout the year.  They are shown how to care for their plants.  During the fall, we collect leaves to make nature collages and discuss the harvest.  During the spring, we learn about butterflies and silkworms and discuss their life cycles.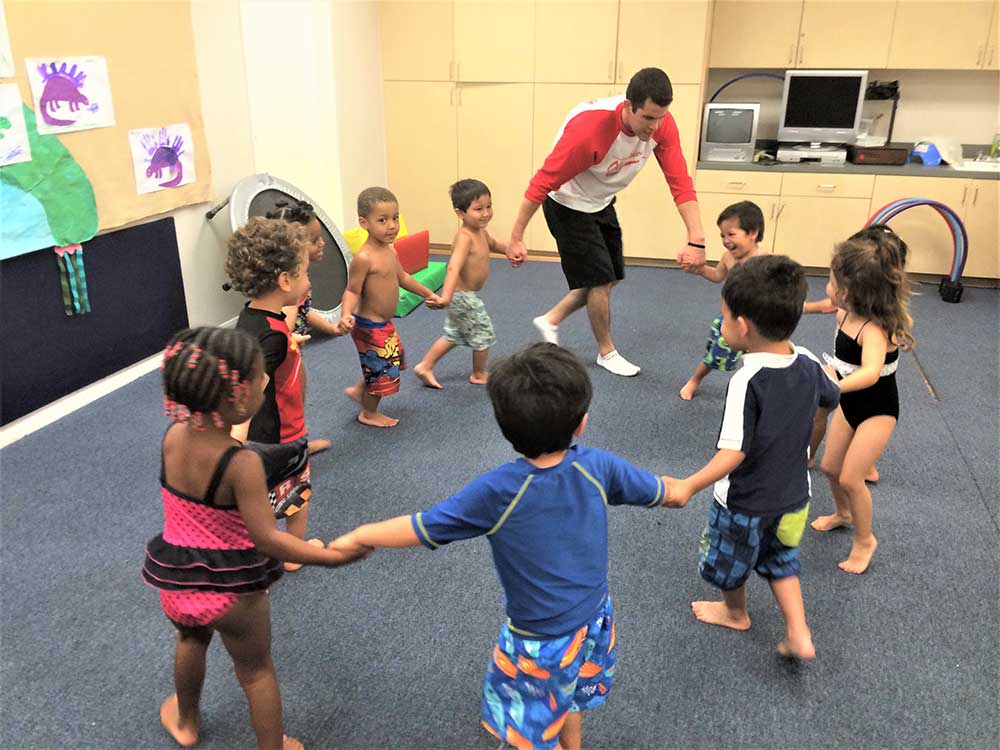 Music is provided daily.  We sing during circle time, during transition times, at lunch time, and whenever possible.  Folk, children's, cultural and classical music is explored.  Activities include dancing, alone and with each other, moving isolated parts of their bodies, acting like many different animals, moving fast and slow, jumping, skipping and hopping, exercising, clapping, marching, etc.  We also present and explore musical instruments with the children.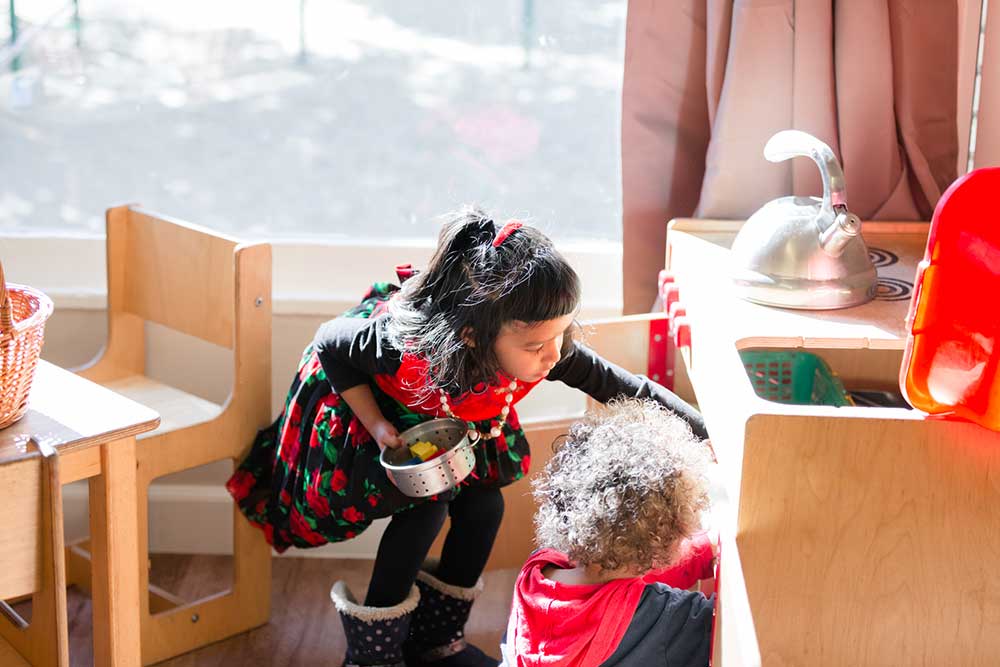 Dramatic Play offers great opportunity for children to express themselves, develop their language skills and practice real-life roles such as mom, dad, nurse, teacher, dentist, grocery store clerk and more.  All children are provided opportunities to participate in dress-up and act out stories or events, such as getting a haircut or going to the beach. 
Children have opportunities to measure, stir, smell and taste during cooking projects.  Recipes are read aloud and directions are followed step by step.  Children learn and observe how the consistencies change as ingredients are added.  Tasting is allowed during and after the activity in a healthy manner.
We hold that the outdoors is an extension of the classroom, therefore children are given the opportunity to paint, build with blocks, use play dough and read books, during their outside play time. The yards also provide ample opportunities to enhance children's gross motor skills as there is space to run, jump and ride tricycles. Our wooden play structures allow children to climb, swing, slide and go up and down steps. We have beautiful climbing shade trees available in the older preschooler's yards that they can climb and hang out in. Obstacle courses are set up giving children opportunities to balance, skip, hop, and more. The yards all have wooden playhouses that can become ice cream stores, schools, pet shops, supermarkets and more, providing an arena for children to delve into their imagination and further enhance their language skills in their dramatic play. Come and see our wonderful school with its beautiful yards.